A Hi-Low Homecare Hospital Bed is the most popular type of home hospital bed due to its contribution to user comfort, safety, and quality of rest. In addition to having many user benefits, the adjustable height feature also helps protect caregivers from painful back injuries. We know having a great deal of options makes for a tough decision, which is why we are here to help. In this buyer's guide to Hi-Low Hospital Beds for at-home use, we research and review five different consumer-verified options for you to consider during your decision process:
Lynacare HC107

Drive Medical




Delta Ultralight

Invacare CS7

Med-Mizer Retractabed

Medline




Alterra Maxx

Price

$2,475

$999.95

$2,099

$2,382

$3,294

Shipping Lead Time

>1 Week

1-2 Weeks

8-10 Weeks

1-2 Weeks

8-10 Weeks

Weight Capacity

500 lbs

450 lbs

600 lbs

500 lbs

600 lbs

Hand Pendant Control

✓

✓

✓

✓

✓

Footboard with Built-In Control Panel

✓

X

Optional Upgrade

X

Optional Upgrade

Central Lock

✓

X

✓

X

X

Includes Assist Rails

✓

Optional Upgrade

✓

Optional Upgrade

✓

Bed Height Range

7" - 30"

9.5″ - 23.5″

7″ - 30″

9″ - 25″

7" - 30"

Sleep Surface Width

Adjustable




35" - 39" - 42"

36"

Standard 35"




Upgrade 39"- 42"

Adjustable




35" - 39" - 42"

Adjustable




35" - 39" - 42"

Sleep Surface Length

Adjustable




80" - 84" - 88"

Standard 80"




Upgrade 84"

Standard 80"




Upgrade 84"

Adjustable




80" - 84"

Adjustable




80" - 84" - 88"

Trendelenburg

✓

X

Optional Upgrade

X

✓

Dining Chair

✓

X

Optional Upgrade

X

✓

Underbed Night Light

✓

X

X

Optional Upgrade

✓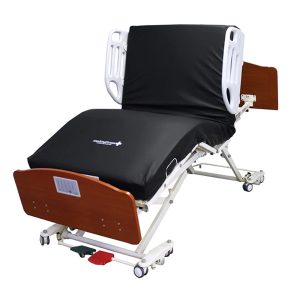 The innovative Lynacare HC107 bed includes many features and functions that are normally only available with acute care hospital beds, making it a customer favorite. For starters, the HC107 can be moved into the Trendelenburg, reverse Trendelenburg, and dining chair positions at the push of a button. Our customers love the versatility this brings to the product, as well as how simple it is to transition between these positions. Another exclusive feature is the ability for caregivers to use the color-coded foot pedal to lock all of the wheels at once, making for a seamless transition. The HC107 bed deck includes built-in extenders that can expand the sleep surface width from 35" to 39" or 42", and length from 80" to 84" to 88". Being able to make these adjustments without the need for additional tools is part of the effort to bring our customers a simplified experience.
In addition to the adjustment feature, inclusivity is apparent with the HC107's 500 lbs weight capacity, making it comfortably accommodate users of all sizes. Finally, the HC107 includes dual controls with a backlit hand pendant for users, providing simple operation during the night, as well as a footboard-mounted master control panel for caregivers, giving them easy access to the controls. The HC107 also features several optional upgrades customers can enjoy. These include an overhead bed trapeze, giving the customer the ability to move themselves, and a battery backup in case of a power outage.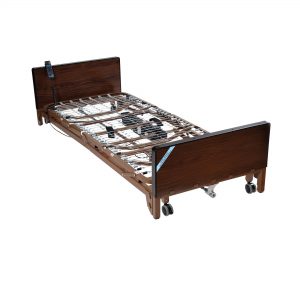 The Drive Medical Delta Ultralight is the most cost-effective Hi-Low Hospital Bed, making it a popular choice among price-conscious customers. However, this option includes fewer features than other Hi-Low Hospital Beds. For example, the Delta Ultralight has the lowest weight capacity at 450 lbs, limiting its user inclusivity. It also features the narrowest height range from 9.5" to 23.5". This can pose a limitation for caregivers who prefer a higher working height that is featured in other beds, as well as for users who prefer a lower height for getting in and out of bed.
Despite these drawbacks, the Drive Medical Delta Ultralight is a great Hi-Low Bed option for settings that may experience frequent power outages due to its battery backup in the hand pendant and the footboard-mounted manual hand crank. These features allow the bed to be operational during power outage instances, which is a benefit not all options possess. As with many of our beds, there are optional upgrades; these include bedside assist rails designed for extra stability, and a bed frame extending kit to reach a maximum 84" length for increased space and comfort.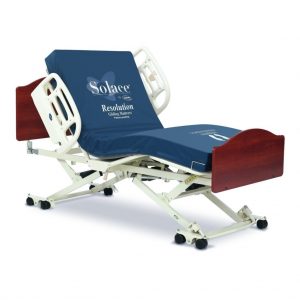 The Invacare CS7is a highly configurable Hi-Low Home Hospital Bed, featuring a wide array of customizable options and upgrades. The standard features for this option include a 7" to 30" height range, simplifying the getting in and out of bed process for users, as well as increasing comfort and decreasing injuries for caregivers. This bed also includes a 600 lb weight capacity, making it a great option for a wide range of users. The CS7 also features a central lock, which is a great benefit for caregivers due to its ability to secure all of the wheels with a single foot-activated pedal. This type of simplified process is vital to caregivers and important to take note of when choosing a Hi-Low Bed.
Being that safety is the number one priority, the CS107's integrated wall bumper ensures the bed is positioned at the proper distance from the wall for safe operation at all times. This bed features various optional add-ons in addition to its standard features. One of these being a footboard-mounted caregiver control panel, creating easy access. Other add-ons include Trendelenburg and dining chair positions, providing versatility for users, and a battery backup, allowing the bed to function without the use of an external power source. Though these are optional, users and caregivers found them to be essential additions to their Invacare CS7.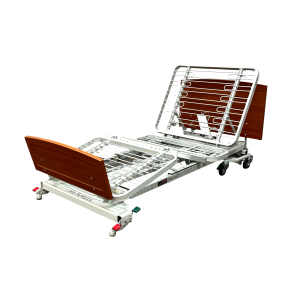 The Med-Mizer CC803 Retractabed is another great option, including a long list of benefits and key features. The unique and space-saving safety feature is one to highlight for the Med-Mizer Retractabed. Setting it apart from other options, this feature pulls the bed deck toward the wall as the head section is raised, allowing its users to easily reach items on their nightstand while simultaneously providing additional floor space at the foot of the bed. The bed frame can also be adjusted for increased comfort and flexibility. At just the touch of a button, the width can be expanded from 35" to 39" to 42" and the length from 80" to 84".
Another great feature is the Evac Position that creates a narrower bed frame, allowing the bed to pass through doors that are less than 36" wide. In addition to these defining features, there are a variety of optional upgrades with the Med-Mizer CC803 Retractabed. An under-bed night light serves as a mechanism for users to better find their way throughout the night. As with some of our other beds, there is an optional battery backup that can be added on to the CC803. Great for power outages, the battery backup eliminates the risk of not being able to operate the bed during these instances.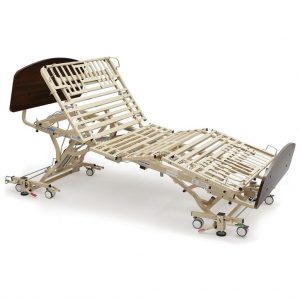 The Medline Alterra Maxx has an extensive list of included key features, giving it the highest price tag. One of these key features is the ability for bed frame expansion, ranging from 35" to 39" to 42" wide and extending from 80" to 84" to 88" long. These range options allow users to create optimal comfort and ideal space. The Medline Alterra Maxx also features a large height range from 7" off the floor to 30" high, making it greatly beneficial for both users and caregivers. This bed also has a 600 lbs weight capacity, allowing it to be used by a large range of customers.
Some other key features include Trendelenburg and Dining Chair positions for versatility, an LED under-bed light for improved visibility for users at night, assist rails for increased stability, and a battery backup for optimal operation even during a power outage. In addition, a footboard-mounted master control panel for caregivers is an optional upgrade buyers may add on. Headboards and footboards are also available in a wide variety of designs and colors for user preference, but they must be ordered separately.
Final Thoughts
The HomeCare Hospital Beds team knows that a hospital bed for yourself and/or a loved one is a major decision and investment. We are dedicated to helping our customers find and choose the best option that fits their needs, timeline, and budget. For more information about the beds discussed above and other home health equipment, call us today at 877-414-0002 or email us at info@homecarehospitalbeds.com.