Selecting Bed Safety Rails for Home Hospital Beds
Hospital bed safety rails are used by patients to assist with repositioning and to help getting in and out of bed.
Caregivers must carefully select the appropriate bed rail for the loved one's age, size, weight and medical condition.
It is important to remember that all hospital bed side rails, frames and mattresses are not interchangeable.
Loose side rails can lead to falls or entrapment injuries. It is essential to follow the manufacturer's specifications for installation and maintenance for bed frames and bedside rails to keep loved ones safe.
1. Full-length side rails
Family members often believe that full-length side rails will ensure patient safety. However, full-length side rails should not be used to keep confused patients from climbing out of the bed.
Loved ones may attempt to climb over the side rail and suffer severe injuries due to falling from the greater height. Other options are more effective for protecting loved ones from getting out of bed without assistance.
Electric high-low beds lower the bed frame to just a few inches above the floor, preventing injury in case the loved one rolls off the mattress. Floor pads may be placed on either side of the bed as well for added protection.
2. Half-length side rails
Upper half-length side rails are used for repositioning and do not prevent loved ones from entering or leaving the bed. They are a convenient location for bed controls and TV remotes to prevent them from falling to the floor.
Solid plastic rails with grip handles are preferred to chrome rungs to reduce the risk of entrapment. The side rails should be securely mounted to the bed frame to help prevent injuries when loved ones get in and out of the bed.
3. Assist bars
Assist bars are similar to half length side rails and are designed to help loved ones get in and out of bed. The narrow shape makes them less helpful for loved ones to reposition themselves in the bed.
Assist bars allow loved ones greater visibility of their surroundings and reduce the feeling of being trapped in the bed. Some assist bars come with storage bags for TV and bed remote controls. Assist bars must also be securely mounted to the bed frame.
4. Entrapment risks
Side rails should never be used as a substitute for careful monitoring of loved ones, especially those at risk of entrapment or falls.
Even though side rails may be perceived as proven safety devices, sprains or broken bones, or strangulation may occur if body parts become wedged between the mattress and side rail.
Gaps between the mattress and side rails can form when loved ones sit or lay on the bed, increasing the risk of injury.
Older model beds with full-length rails, replacement parts and soft mattresses have the highest risks for entrapment.
Gap guards, foam bumper pads, and concave mattresses can help reduce the risk of entrapment between the side rails and mattress.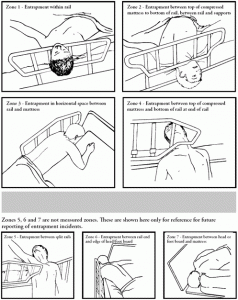 Photo Resource: FDA
Final Thoughts
Caregivers should regularly assess the bed for potential fall and entrapment hazards.
Rigid plastic inserts may be placed into bed rail openings to prevent loved ones from inserting arms or legs into them.
Side rails should never be used as a substitute for careful monitoring and supervision of loved ones. Caregivers should always consult with a physician before selecting side rails for home hospital beds.
Learn more About HomeCare Hospital Beds
At HomeCare Hospital Beds, we always want you to feel informed before you make a purchase.
If you have any doubts on which bed is fit for you, please contact HomeCare Hospital Beds team, so we can help you make the right choice.
Call us today toll free at 877-414-0002 or email us at info@homecarehospitalbeds.com.
Learn more about Hospital Bed Safety here.
Read our latest Hospital Bed Buying Guide .