Invacare ETUDE Low Hospital Bed
The ETUDE HC Hospital Bed features innovative Shear Management Technology (SMT) as a standard feature, reducing shear and friction and providing safety. The SMT feature is provided through the auto regression of the head section while repositioning in ETUDE HC Bed through use of the eight function hand control.
Ideal for home use, long term care and post acute care
Hi Low Bed: deck height ranging from 7.8" to 26.5".
Tool-less assembly: design allows for tool free assembly and maintenance.
8 Function Hand Control: allows the user or caregiver to lock out functions for increased safety.
Trendelenburg: Trendelenburg and Reverse Trendelenburg features are standard with this bed. Great for reducing swelling in the legs and true chair position.
Weight Capacity: 360 Lbs.
Bed Extender: ETUDE can extend to 84″ and 88″ sleeping surface for those over 6'1″.
Optional Accessories: Trapeze and Multiple Rail Options
Warranty – Frame: 10 years, Mechanical: 5 years, Electrical: 2 years

Hospital Bed Mattress Options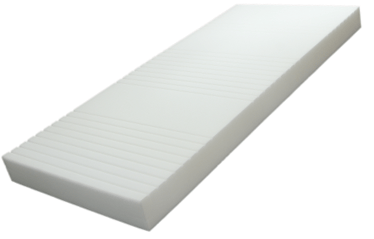 Standard MedPrevention Pressure Redistribution Mattress
This mattress conforms to the patient's body to provide support as the patient moves.
Pressure Redistribution is achieved by using various cell depths throughout the mattress with special attention to the vulnerable heel section.
Unique Pressure Zones: Channel cut high density polyurethane foam.
670 Individual cells offer superior pressure redistribution.
Foam core is fire-retardant and anti-microbial/anti-bacterial.
The cover is anti-microbial and anti-fungal, provides low moisture vapor transmission, is fluid resistant and has a 360 degree zipper for easy removal for cleaning.
Size: 36" x 80" x 6" Weight Capacity: 300 lbs.
Warranty: 4 Year, Non-Prorated
---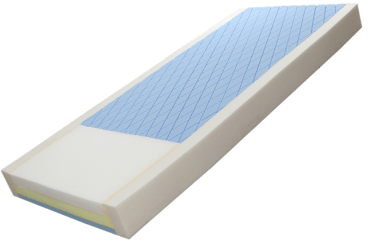 Plus MedPrevention Pressure Redistribution Mattress
This mattress provides exceptional pressure redistribution for moderate to high risk patients with close attention paid to the sacral and heel area.
Contains multi-tiered pressure redistribution mattress with top layer of die-cut high density foam in the head & torso section.
High-resilient foam in the heel section for unparalleled pressure redistribution.
Patient transfer support system allows easy transfers by providing additional support around the edge.
The 4-way stretch nylon cover reduces perspiration and provides a low shear friction surface that is anti-microbial and water resistant.
Anti-Contamination Flap covers the zipper to reduce possibility of fluids ruining the foam core.
---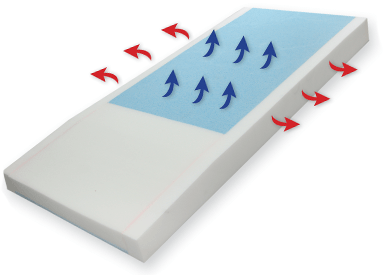 Premium MedPrevention Pressure Redistribution Mattress
This mattress comes with the Visco Gel Polymer Technology (VGPT) that provides extraordinary pressure redistribution, rapid heat dissipation, and vast increases in breathability.
VGPT is an open cell memory foam, infused with gel polymers, designed for clinical superiority and patient comfort.
VGPT reduces occurrence of pressure sores, channels heat away from the body, provides more support with less cradling, eliminates static fatigue and keeps patients cool, dry and comfortable.
This premium mattress uses a 30 degree heel slope to redistribute pressure.
Comes equipped with a top layer of Lura-Quilt foam that keeps the skin cool and dry.
Size: 36" x 80" x 6" Weight Capacity: 1,000 lbs.
Warranty: 15 Year, Non-Prorated

Swivel Support
Verso ¾ Side Rails
Side Rail 16″ x 16″
 Side Rail 16″ x 12″

Service Options
Worry Free Service Contracts
1 to 3 Year In-Home Service
Your homecare bed is eligible for up to three years of in-home service. Should your bed ever need repair, simply call HomeCare Hospital Beds and we will dispatch an authorized service technician to your home to diagnose and repair your bed absolutely free of charge.
In-home service on your bed means you're covered for diagnostics, labor and repairs.
One year in-home service contract $148.50
Two year in-home service contract $192.50
Three year in-home service contract $248.50

Shipping Options
Standard Ground Shipping
Includes delivery of hospital bed to the front of your house or facility. This does not include bringing the hospital bed into the house.
Inside Delivery & Set-Up
Take the hassel out of ordering a hospital bed by having our experts assemble your new hospital bed in the room of your choice!
Our Technicians Will:
Bring the hospital bed inside your loved one's home
Assemble the bed in the room of your choice!
Remove all boxes and packaging debris.
Provide in-service instruction on proper use, maintenance and warranties!
*Please note: Although we strive to have our technicians ready when you are, inside Set Up & Delivery may add 5-7 days to your delivery time!
*Availability date reflects average availability time-frame from the manufacturer and is not a guaranteed delivery date.