What is the Best Hospital Bed for Home Use?
Choosing a hospital bed for your home can be a complicated process with so many options and features to choose from.
There are many options available on the market such as Low Beds, Bariatric Beds, Semi-Electric Beds, and Full-Electric Beds.
It is difficult to decide which in home hospital bed is the best fit for you or a loved one.
For instance, when a patient leaves a hospital and requires home care, the hospital will be asked for recommendations and suggestions.
This can be problematic as medical professionals tend to recommend products they are familiar with. Those of which are typically more advanced than the patient requires.
Here are a few things to consider to decide which in home hospital bed will fit your needs.
How to Choose Which Bed is Right for Me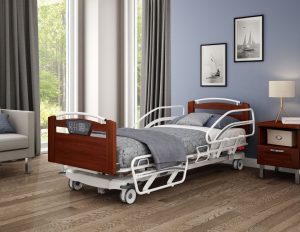 Buying a hospital bed does not have to be such a confusing process. It should only require answering a few basic questions:
How old is the patient?
The first step to choosing a hospital bed is considering the age of the patient. If the patient is older it can often be difficult getting out of bed. They have a higher risk of falling.
A low bed offers the convenience of height adjustment and makes getting out of bed easier for the patient and caregiver.
Can I get in and out of bed alone?
If yes, then a Semi-Electric Bed or a Low Hospital Bed would be your best choice.
If no, then a Full-Electric Bed is recommended along with a Pressure Redistribution Mattress. Pressure Redistribution Mattresses can help prevent bedsores or pressure ulcers.
Final Thoughts
In conclusion, there are many other factors to consider when trying to customize a bed for your home.
We know that choosing a bed for yourself or a loved one can be a stressful task. We want to help you make the process as simple as possible.
HomeCare Hospital Beds offers many options for at home care whether it be hospital beds, hospital bed mattresses or other home care accessories.
If you would like additional help or reassurance that your choice is best suited for you or your patient, check out our hospital bed Buying Guide or give us a call at 877-414-0002!
The information on this site is not intended or implied to be a substitute for professional medical advice, diagnosis or treatment. All content contained on or available through this web site is for general information purposes only. NEVER DISREGARD PROFESSIONAL MEDICAL ADVICE OR DELAY SEEKING MEDICAL TREATMENT BECAUSE OF SOMETHING YOU HAVE READ ON OR ACCESSED THROUGH THIS WEB SITE.