1. What is a Transfer Bench?
Bathing is essential for skin care and comfort but it is also one of the most dangerous activities of daily living. Shower or tub transfer benches are ideal for people who are at risk of falling due to weakness, fatigue or poor balance. They are also helpful to assist recovery after a stroke or hip fracture.
A transfer bench allows people to remain seated while transferring in and out of the shower or bathtub. Two of the legs are placed inside the tub while the other two legs are placed on the bathroom floor. The bench crosses over the bathtub wall, eliminating the need to climb in and out. Once in the tub, the bench provides a secure place to sit while showering.
The transfer bench should be placed so that the user is facing the shower head. A handheld shower head should be used with the bench. This way you can control the direction of the water and rinse your body fully without standing up. You can also control the shower spray at the handle without having to reach for the wall controls.
The Drive Medical Padded Seat Transfer Bench has a cushioned seat and backrest. It provides both support and comfort to help keep you safe while bathing.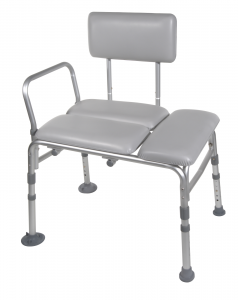 2. Transfer Bench Vs. Shower Chair
Transfer benches are wider than shower chairs so that they can straddle the tub wall. Your body is fully supported when entering and exiting the tub. Shower chairs allow you to stay seated while bathing but they cannot help you get in and out of the tub. Transfer benches are larger than shower chairs but knock-down models are easily taken apart for storage.
Transfer benches are available in various widths. It is important to measure the bathroom to make sure that there is enough room for the transfer bench. The bench must be able to sit flat on the floor with enough room for you to safely sit down, stand up, and slide across into the tub.
Like shower chairs, transfer benches should be made from corrosion-resistant materials that are easy to clean. Aluminum frames provide more support than plastic and will not rust. Solid plastic seats have drain holes to prevent mold or mildew from water build-up.
The Drive Medical Tub Transfer Bench has a 26" wide seat on a 32" wide base. This A-frame design is stable and strong. The durable blow-molded plastic seat and backrest are durable and easy to clean.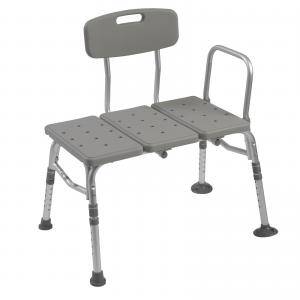 3. What Should I Look for in a Shower Chair?
Some main features to consider are that tub floors are typically slightly higher than bathroom floors. Adjustable height legs are important so that all four legs can be placed firmly flat on the floor. The two legs inside the tub are adjusted to a shorter height than the two on the bathroom floor.
The transfer bench should also be adjusted so that the seat is an appropriate height for the user. You should be able to sit without straining your joints or dropping onto the seat.
Transfer benches should be reversible to accommodate any bathroom configuration. Suction cups prevent the bench from slipping on wet bathroom and tub floors. The bench must stay in place when sitting down and standing up to prevent serious injury. A backrest provides comfort and support for the upper body during bathing. It eliminates the risk of falling backwards during bathing and conserves energy to prevent falls after bathing.
The Drive Medical Folding Sliding Transfer Bench slides left and right along a frame for smooth movement in and out of the tub. It weighs just 16 lbs and folds flat for storage.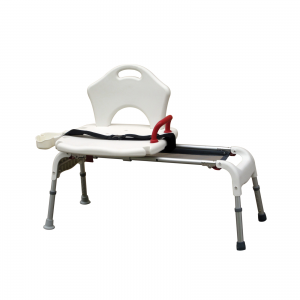 4. What about the Shower Curtain?
Transfer benches straddle the bathtub wall, making it difficult to fit the shower curtain in place. Water can spray onto the bathroom floor and cause a fall after getting out of the tub.
The Drive Medical Splash Defense Transfer Bench with Curtain Guard Protection has a unique U-shaped cut-out design that helps keep the bathroom floor dry. The shower curtain fits into the slot so that all of the water drips into the tub. The A-frame construction provides stability and the reversible design accommodates any bathroom configuration.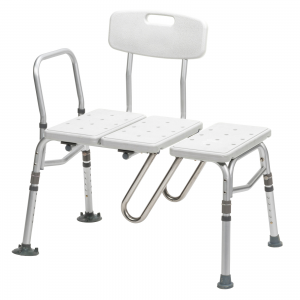 Drive Medical Splash Defense Transfer Bench with Curtain Guard Protection
5. Safety Tips for Shower Chairs
The transfer bench should be tested before each use to make sure that it is level and stable. A wobbly, uneven bench could lead to serious injury. A brightly colored towel can be placed on the bench seat to help people with limited sight or poor depth perception.
The transfer bench should be rinsed off after each use to remove any residual soap or conditioner. It is a good idea to dry the bench with a towel or soft cloth to avoid damage from water build-up.
The weight capacity must be taken into account to ensure that the bench can safely support the user. Most transfer benches have a weight capacity of 300-400 lbs. The Drive Medical Bariatric Transfer Bench can hold users who weigh up to 500 lbs. The 26.5" wide solid plastic seat is supported by an extra strong metal frame.
*Consultation with a physician is essential before selecting and using transfer bench or shower chairs*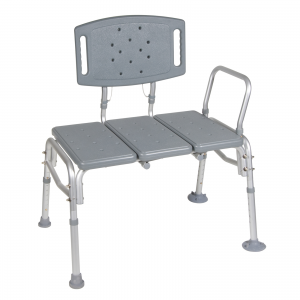 Final Thoughts
Bathing is a necessity of life but getting in and out the bathtub can be very dangerous. Wet floors and poor balance can lead to falls and life-threatening injuries. Transfer tub benches can allow safe, independent bathing, especially when they are used with a hand-held showerhead.
If you have any doubts on which transfer bench is best for you, please contact our HomeCare Hospital Beds team so we can help you make the right choice.
Call us today toll free at 877-414-0002 or email us at info@homecarehospitalbeds.com.
5 Considerations when selecting a wheelchair
5 Important Things to Know about Patient Lifts