5 Things to Know About Toilet Safety Aids
As your loved one gets older you want to make sure you have all the safety precautions in the bathroom. Transferring from standing to sitting can pose a risk for falls that may result in a serious injury. Fortunately, we have put together 5 things you should know about toilet safety aids, making it easy to find the best type for your bathroom.
1. Elevated toilet seats
Raised toilet seats reduce the strain on legs, back and knees for people with arthritis, limited mobility, poor balance or muscle weakness. They are easily installed without tools and are lightweight and portable, making them well suited for travel.
Molded plastic materials are easily cleaned and some seats have openings in the front and/or back for hygiene. Many seats come with arms to provide support for sitting and standing.
A raised toilet seat with arms is essential for individuals recovering from hip surgery to prevent bending more than 90° at the waist. Removable arms are helpful for wheelchair users who use a slide board for transfer.
Locking seats are recommended to prevent shifting during slide transfers to and from the toilet from a wheelchair. Weight capacity varies and some seats are designed specifically for standard or elongated toilet bowls. Raised seats without arms and wall-mounted grab bars are best for narrow bathroom spaces.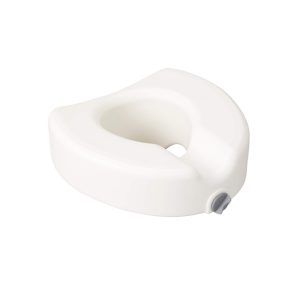 2. Toilet safety rails
Safety rails fit around round and elongated toilets to provide support when sitting and standing. They do not raise the height of the toilet seat, making them suitable for people of short stature. Some rails are mounted to the toilet bowl while others have legs that extend to the floor with non-slip tips.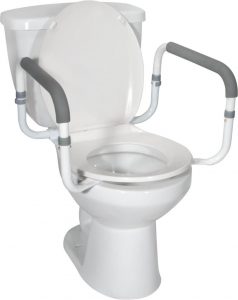 Frames are made of rust-resistant steel or aluminum and weight capacity varies. The height of the plastic armrests can be adjusted for comfort and use with elevated toilet seats. Some models feature adjustable width between the arms and padded armrests.
3. Bedside commodes
Bedside commodes can be used as bedside toilets, raised toilet seats or toilet safety frames depending on the needs of the user. The lightweight frame provides adjustable seat height and safety rails over standard and elongated toilet bowls.
A hinged lid and removable drop-in bucket with handle allows the commode to be used at the bedside as needed. Weight capacities vary and bariatric models are available. Drop-arm commodes are helpful for wheelchair users who use a slide board for transfer. Some commodes allow the front legs to be folded against the back of the frame when the front crossbar is released, making them ideal for travel.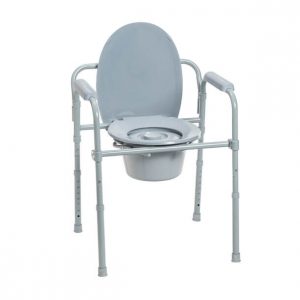 Commodes are not ideal for use in the shower due to their steel frame construction.
4. Wall-mount safety grab bars
Suction-mounted grab bars should not be used by the toilet as they are not intended to support the user's body weight. Ideally three grab bars should be mounted around the toilet. Two safety grab bars should be mounted on the wall next to the toilet.
One bar should be parallel to the floor, approximately 5-6 inches above the toilet seat. This bar should be at least 32" long and extend at least 12" past the front of the toilet bowl. A second 18" bar should be installed vertically above the horizontal bar.
A third 36" bar should be mounted horizontally on the wall behind the toilet to provide support caregivers and when leaning over to flush the toilet. Grab bars must be screwed securely into wall studs to support at least 250lbs for sitting and standing.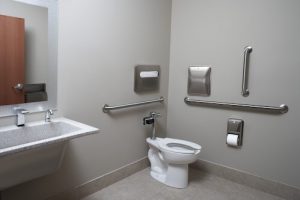 5. Other bathroom safety recommendations
Bathroom floors must be kept dry and free of clutter or extension cords. Bath rugs must be low profile with non-skid backing. Toilet paper should be easily reached without having to bend over.
Towel bars may be replaced with safety grab bars for extra support by the sink. Locks should be removed from bathroom doors so that caregivers can easily enter in case of emergency.
Rubber tips on commode and toilet rail legs should be replaced periodically to ensure that they will stay in place on the floor. Replacement tips are available in various sizes with slip-resistant rubber that prevents damage to the floor. Commode pail liners can also be used to reduce splashing and odor.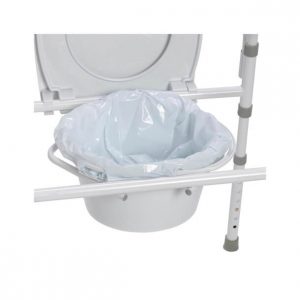 Final Thoughts
Bathroom safety is very important to look out for with you or your loved ones. Bathroom safety aids can reliably prevent accidents when using the toilet. You should not have to struggle to get up and down in the bathroom and a safety aid can help reduce the risk of a fall or accident in your home.
At HomeCare Hospital Beds we want to help you make an informed decision.
If you have any doubts on which toilet safety aid is fit for you, please contact our HomeCare Hospital Beds team, so we can help you make the right choice.
Call us today toll free at 877-414-0002 or email us at info@homecarehospitalbeds.com.
Learn more about Hospital Bed Safety here.
Read our latest Hospital Bed Buying Guide.