5 Things to Know About Mounted Safety Grab Bars
According to the CDC, each year 3 million older people are treated in the emergency room for fall injuries. The CDC says falls can help be prevented by adding grab bars to your home.
Making sure you or your loved one is prepared to prevent any falls is a priority.
Mounted safety grab bars can greatly reduce the risk for falls and help maintain balance. We put together a guide to share 5 things you should know about mounted safety grab bars.
Types of Fixed Mount Safety Grab Bars
Most safety grab bars have a standard 1.5 inch diameter, although smaller diameters may be helpful for people with poor hand strength.
Smooth surfaces may look clean and attractive but textured surfaces are recommended to help maintain the grip on grab bars.
Knurled finishes are shallow diamond patterns cut into the surface of metal grab bars that allow better grip than smooth surfaces. Stainless steel will resist corrosion, especially in humid bathroom environments.
Color contrast between the grab bar and wall is often helpful for people with poor vision. Rotating flanges allow grab bars to be installed at any angle relative to the mounting screws.
Most fixed mount safety grab bars have a weight capacity of 250 pounds but some heavy duty bars will support up to 500 pounds.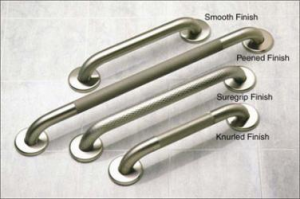 Installation of Safety Grab Bars
Mounted safety grab bars should be installed by professionals, as serious injury could occur if they fall away from the wall during use.
Grab bars must always be screwed into wall studs to ensure that they are securely anchored. Special caution is needed when mounting grab bars to walls with fiberglass or ceramic tile.
They should not be mounted on acrylic tubs or shower surrounds. Installers should firmly yank on the grab bar after it is installed to ensure that it is secure for use.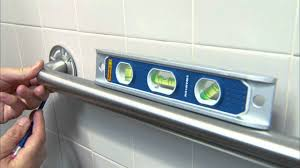 Where to Mount the Safety Grab Bars
Mounted safety grab bars are most helpful if they are installed in the right place and they cannot be moved after they are fixed to the wall.
Common locations include shower stalls, bathtubs, toilet areas, hallways, and entry doors from attached garages.
Building codes and ADA guidelines should always be checked before mounted grab bars are installed. Occupational and physical therapists can provide valuable guidance about where grab bars should be mounted to be most effective for users.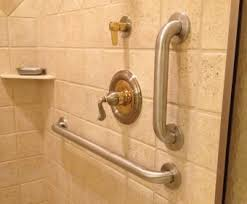 Grab Bar Positioning
Safety grab bars can be installed vertically, horizontally or diagonally. Horizontal bars provide leverage when getting in and out of the bathtub and rising to a standing position.
Vertical bars are excellent for narrow spaces and are suitable for users of various heights.
Mounting a vertical bar just outside the shower will help prevent users from reaching for towel bars or sliding glass shower doors for support.
Vertical bars may also be mounted next to the bathtub and shower controls to provide support when adjusting the water temperature.
Angled bars provide solid support at various heights and place less strain on wrists than horizontal bars. The leverage provided by angled bars is particularly helpful for sitting and standing from toilets and shower seats.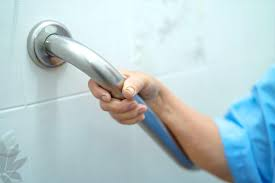 Sizing
Most studs are located 16" apart on center, making 16" and 32" inch grab bars ideal for horizontal mounting.
24" grab bars may be installed at a 45 degree angle with 16" spacing between studs. 12" and 18" grab bars are well suited for vertical placement by toilets and in bathtubs or showers.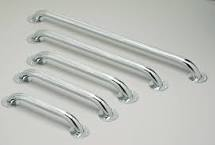 Final Thoughts
At HomeCare Hospital Beds, we always want you to feel informed before you make a purchase. If you are in need of grab bar installation, we have a service network of professionals that can help. Consulting a professional can ensure your grab bars are mounted properly.
Even if you choose to install the bars yourself, you will at least have a professional opinion. Click here to contact us!
If you have any doubts on which product is the best fit for you, please contact HomeCare Hospital Beds team, so we can help you make the right choice.
Call us today toll free at 877-414-0002 or email us at info@homecarehospitalbeds.com.
Learn more about Hospital Bed Safety here.
Read our latest Hospital Bed Buying Guide .
Resource: ADA Guidelines for Safety Grab Bars
https://www.ada-compliance.com/ada-compliance/609-grab-bars
https://www.ada.gov/reg3a.html#Anchor-11185